Au Naturel Market
We are the largest health food store in Northwest Indiana. We provide the highest quality organic and natural products, vitamins and health supplements, organic fruits, organic vegetables, organic frozen meat and poultry, minerals, herbs, gluten free wheat free products, full line of protein shakes, as well as specialty products for those seeking a healthier lifestyle.
Our mission :
We are dedicated to providing the community a market with high-quality organic and natural products. We stock healthy alternatives to the additive-laden products found in mainstream stores. We understand that the more you know, the more you will understand how much living a more natural lifestyle can benefit you and your family.
Au Naturel Market is independent, locally owned and managed. Our staff is knowlegeable and experienced.
We can ship across the U.S.
phone (219)465-1984
1708 E. Lincolnway
Valparaiso, IN 46383
Monday-Friday: 10:00 am - 7:00 pm
Saturday: 10:00 am - 6:00 pm
Sunday: 12:00 pm - 5:00 pm
Au Naturel Market Testimonial
posted by dhaines49 on Mar 3rd, 2012 at 4:48 pm

My weight loss journey with the help of my local health food store:
Over the years I had succumbed to the modern malady of over eating, eating a poor diet and being very sedentary. This led to a lot of weight gain, and poor health. In fact I had developed heart disease, high blood pressure with an enlarged heart. My future did not look good.
On April first I finally made the decision to take my weight seriously and do something about it. I have tried other diets in the past, from vegetarian to low fat and everything in between. Eventually I stumbled upon a diet called the Paleo diet. The basic idea behind the diet is that we eat foods that we are genetically adapted to eat based on our evolutionary past. This primarily is made up of natural healthy saturated fats, meats, nuts, seeds, vegetables and some fruit. It's a very organic back to nature style diet. The main emphasis though is on what you're not suppose to eat, and this is any refined or processes foods, sugar or grains of any kind. More and more evidence is now showing that sugar is more of a contributor to weight gain that saturated fats, and that an over consumption of sugars and simple carbohydrates directly contribute to fat storage.
With my health problems and info of this new diet I set out to learn as much as I could about food, and how it affects the body when eaten. I really wanted to know why should eat certain foods and not others. I read up on the different studies of nature of fats, carbs, glucose, fructose, cholesterol, healthy gut bacteria, vitamins and minerals and a host of other nutritional information for the most recent studies and leading innovators in the nutritional heath medicine. With this info in hand I set out for the health food store.
This is where I came to Au Naturel Market. I had never really been to a health food store before in my life. I only had the most rudimentary knowledge of supplements and healthy alternative foods. With all the new info in hand, I had researched all the supplements needed to give my diet the kick start it needed. I picked up supplements for heart and blood pressure problems, fish oil pills so I could super load on Omega-3, Probiotics to improve and rebuild my broken down digestive system, and of course farm fresh eggs, grass fed meats and full fat yogurt.
Despite my skepticism of the natural foods and supplements movement in the past, I really have to admit that this made a huge difference in the effectiveness of my diet and health overall. It really gave me a boost; I felt I was finally making a difference this time. As the weight started coming off it just verified all the information I had read, that eating as close to wild as we can, and using the best that nature has to offer with natural supplements you can really turn your health around.
I have now lost 90 pounds on my diet. I have modified the diet over time to adapt to natural foods that I thrive on. This takes time and you must really be in tune with your body to know what you are sensitive to. It really pays off to clean up your diet and supplement for your specific needs. I don't ever plan to go back to the days of fast food and packaged food products, I'm eating natural for the rest of my life.
James Hartman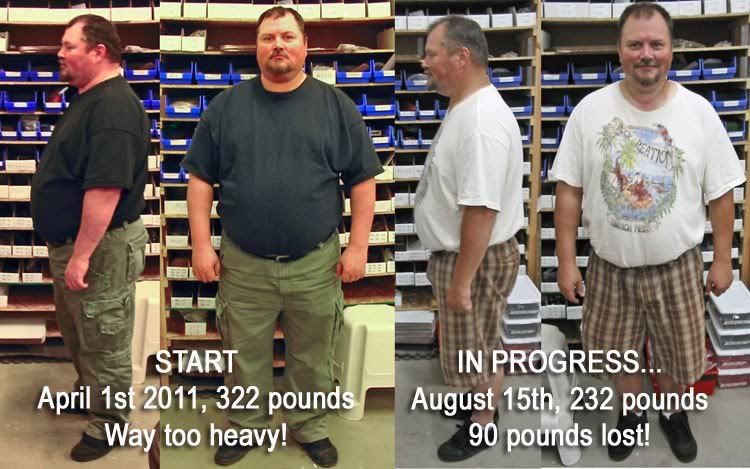 .
.