Au Naturel Market
We are the largest health food store in Northwest Indiana. We provide the highest quality organic and natural products, vitamins and health supplements, organic fruits, organic vegetables, organic frozen meat and poultry, minerals, herbs, gluten free wheat free products, full line of protein shakes, as well as specialty products for those seeking a healthier lifestyle.
Our mission :
We are dedicated to providing the community a market with high-quality organic and natural products. We stock healthy alternatives to the additive-laden products found in mainstream stores. We understand that the more you know, the more you will understand how much living a more natural lifestyle can benefit you and your family.
Au Naturel Market is independent, locally owned and managed. Our staff is knowlegeable and experienced.
We can ship across the U.S.
phone (219)465-1984
1708 E. Lincolnway
Valparaiso, IN 46383
Monday-Friday: 10:00 am - 7:00 pm
Saturday: 10:00 am - 6:00 pm
Sunday: 12:00 pm - 5:00 pm
posted by dhaines49 on Jun 12th, 2010 at 5:01 pm

.
posted by dhaines49 on Jun 2nd, 2008 at 9:43 am

"Herbal Insect Repellent A gentle way to tell bugs to buzz off. How it Works Our 100% natural blend of bug-fighting oils repels even the most stubborn of pests. Rosemary, Lemongrass, and Citronella oils mix with 5 other oils that bugs hate, creating an all natural solution for keeping them away. Since there's no DEET in this formula, it's safe enough to apply with confidence to children and pets. How to Use It Apply liberally to exposed skin, particularly your ankles, legs, arms and hairline before venturing outdoors. Featured Ingredient Rosemary Oil — Rosemary is an aromatic shrub with scaly bark and leathery, needle-like leaves yielding a pungent pine-like aroma with a woody, camphor note. Read more Ingredients: glycine soja (soybean) oil, ricinus communis (castor) seed oil, rosmarinus officinalis (rosemary) leaf oil, cymbopogon schoenanthus (lemongrass) oil, thuja occidentalis (cedar) leaf oil, mentha piperita (peppermint) oil, cymbopogon nardus (citronella) oil, eugenia caryophyllus (clove) flower oil, geranium maculatum (geranium) oil, tocopherol." Pick up your Burt's Bees Herbal insect repellent at Au Naturel Market, the Largest Health Food Store in Northwest Indiana, Located in Valparaiso, 219-465-1984.
.
posted by dhaines49 on May 30th, 2008 at 7:22 am

Dangers of Sunscreen and Insect Spray

What dangers lurk in your summer products? If your sunscreen contains any of these chemicals you should dump them now.
Para amino benzoic acid
Octyl salicyclate
Avobenzone
Cinoxate
Homosalate
Menthyl anthranilate
Octocrylene

The Sun is NOT Deadly
In fact the sun is healthy for you. In moderation Sun provides us with vitamin D. As soon as the sun's ultraviolet rays strike your skin, your body is programmed to produce its own natural vitamin D. Of course if you are going to be outdoors all day long you should use a natural sunscreen. I recommend Alba, Jason, Burt's Bees or Badger.


DEET is more dangerous than you think!
DEET (N,N-diethyl-3-methylbenzamide) is a chemical that was patented by the US Army in 1946. Most commercial insect repellents are made of varying concentrations of DEET. Heavy exposure to DEET and other insecticides can cause eye and skin irritation, memory loss, headaches, weakness, fatigue, muscle/joint pain, nausea and more.

Give one of our natural insect repellents a try. I like Burt's Bees Herbal Insect Repellent or Badger Anti-Bug Balm.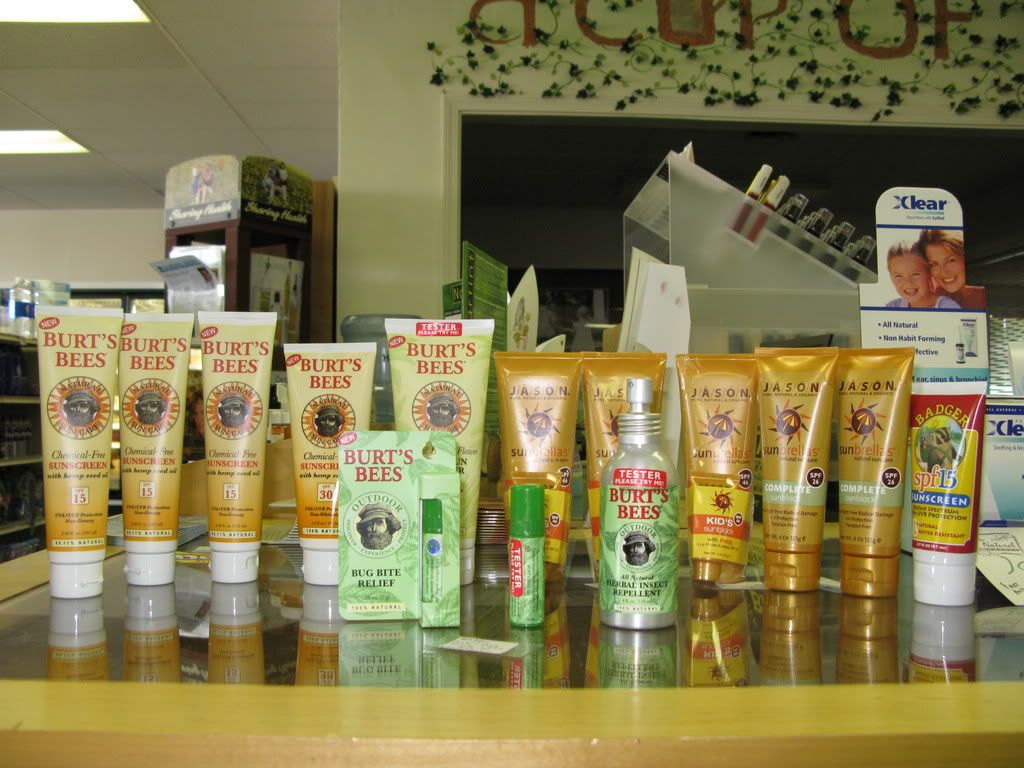 .
Displaying Blog Posts 1 - 3 of 3