Au Naturel Market
We are the largest health food store in Northwest Indiana. We provide the highest quality organic and natural products, vitamins and health supplements, organic fruits, organic vegetables, organic frozen meat and poultry, minerals, herbs, gluten free wheat free products, full line of protein shakes, as well as specialty products for those seeking a healthier lifestyle.
Our mission :
We are dedicated to providing the community a market with high-quality organic and natural products. We stock healthy alternatives to the additive-laden products found in mainstream stores. We understand that the more you know, the more you will understand how much living a more natural lifestyle can benefit you and your family.
Au Naturel Market is independent, locally owned and managed. Our staff is knowlegeable and experienced.
We can ship across the U.S.
phone (219)465-1984
1708 E. Lincolnway
Valparaiso, IN 46383
Monday-Friday: 10:00 am - 7:00 pm
Saturday: 10:00 am - 6:00 pm
Sunday: 12:00 pm - 5:00 pm
posted by dhaines49 on Jul 26th, 2012 at 8:55 am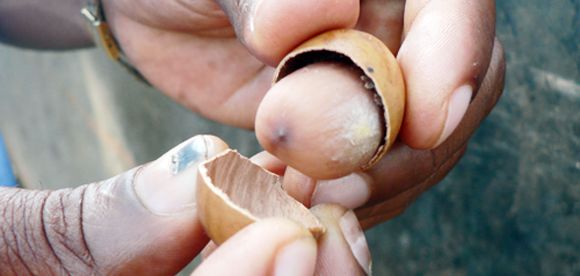 When Victor Lulla teamed up with Gilles Adamon in 2005 they had at least two goals in mind, to bring America the world's best shea butter products with their Out of Africa brand and to remain socially responsible. To fulfill the latter need, the team collaborated with a Benin, West Africa, women's cooperative which help to create jobs and provide income,health benefits and education to the families in the community. Out of Africa now produces 200,000 bars of soap a month, along with an expanding array of other shea butter products. The Out of Africa line includes organic shea butter, bar soaps, hand and body washes, body butters, lip balms, lotions and body oils.
Why Choose Shea Butter?
Shea butter is a natural, creamy-colored fatty substance made from the nuts of a karite tree that grows wild in the savannah region of West and East Africa. Shea butter is made by crushing and boiling or by expeller press. No chemicals or synthetics are needed. What sets shea butter apart from other seed oils is that it has an exceptionally large healing fraction. This refers to the percentage of nutrients, vitamins and other phytonutrients that foster healing. The healing fraction of shea butter ranges from 5% to 17% (the larger the healing fraction the better). By comparison, the fraction of other seed oils is very small, around 1%. Out of Africa shea butter and products make a great daily moisturizer for the face and body, helps prevent stretch marks, reduces blemishes and wrinkles, increase circulation to the skin, helps reduce acne and scarring, soothes eczema, psoriasis and diaper rash, makes a great after sun conditioner, restores luster to hair and so much more.
Out of Africa shea butter products use only 100% natural ingredients; no parabens or sulfates, it's never green, extremely hard or greasy (the sign of badly processed shea) and the products are vegan and eco-friendly. To further support Benin, West Africa, Out of Africa donates 5 to 30 cents from each product sold to it's School Children Unite program that helps provide local children with medical care and education. Please help support this worthy cause and your skin by choosing Out of Africa for your skin care needs.
.
Displaying Blog Posts 1 - 1 of 1