Au Naturel Market
We are the largest health food store in Northwest Indiana. We provide the highest quality organic and natural products, vitamins and health supplements, organic fruits, organic vegetables, organic frozen meat and poultry, minerals, herbs, gluten free wheat free products, full line of protein shakes, as well as specialty products for those seeking a healthier lifestyle.
Our mission :
We are dedicated to providing the community a market with high-quality organic and natural products. We stock healthy alternatives to the additive-laden products found in mainstream stores. We understand that the more you know, the more you will understand how much living a more natural lifestyle can benefit you and your family.
Au Naturel Market is independent, locally owned and managed. Our staff is knowlegeable and experienced.
We can ship across the U.S.
phone (219)465-1984
1708 E. Lincolnway
Valparaiso, IN 46383
Monday-Friday: 10:00 am - 7:00 pm
Saturday: 10:00 am - 6:00 pm
Sunday: 12:00 pm - 5:00 pm
posted by dhaines49 on Jun 22nd, 2011 at 3:12 pm


ZEVIA is the new version of "diet sodas." What's different? Zevia has stevia, a 100% natural, little miracle of nature. People have been sweetening foods and beverages with stevia for hundreds of years.
ZEVIA, pronounced z?-v?-ah, was the first and remains the best tasting 100% natural, zero calorie soda.
With only the purest ingredients, ZEVIA contains none of the chemically processed artificial sugar substitutes, artificial colors, flavors or preservatives found in other diet sodas. ZEVIA is 100% natural, has zero calories, zero net carbs, zero fat, and little or no sodium (depending on flavor).
All twelve delicious ZEVIA varieties: Cola, Ginger Root Beer, Dr. Zevia, Twist, Ginger Ale, Black Cherry, Orange, Grape, Cream Soda, Caffeine Free Cola, Mountain Zevia, Grapefruit-Citrus, are more delicious and better for you than any other diet soda.
ON SALE NOW AT AU NATUREL MARKET    $4.99 PER 6-PACK REG $6.29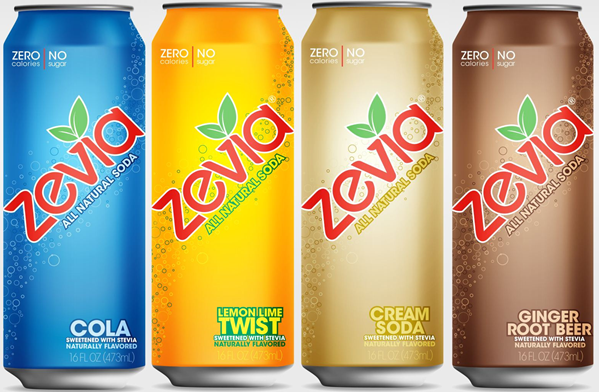 blog tags:
ZEVIA
,
STEVIA
,
NATURAL SWEETENER
,
NO ARTIFICIAL SWEETENERS
,
ROOT BEER
,
GINGERALE
,
LEMON LIME
,
GRAPEFRUIT CITRUS
,
COLA
,
CAFFEINE FREE COLA
,
DR. ZEVIA
,
SODAS
.
Displaying Blog Posts 1 - 1 of 1