Shannon Schafer, B.S., N.E. Certified Nutritionist
Biography
Shannon Schafer, BS, NE
Shannon is a certified Nutrition Educator and graduate of Bauman College of Holistic Nutrition and Culinary Arts in Berkeley, California. She works individually with clients to develop nutrition programs appropriate to their needs. Helping clients find a natural path to well-being and radiance is a strong passion of hers. After overcoming her own health issues by embracing a whole foods diet, she can relate to many client's concerns. Shannon specializes in digestive health, calming allergies, and building the immune system. She is dedicated to helping people look and feel their best!
Watch episodes of my online show Dishin Nutrition for whole food recipes and healthy tips.
phone (415)814-2979
dietmakeover@gmail.com
San Francisco, CA 94110
Available by appointment only
Sugar, Lick the habit!
posted by shannonsms on Feb 25th, 2008 at 2:53 pm

Today the average American consumes 170 lbs of sugar a year!!!
This is a drastic increase from the 10 lbs per year people consumed in 1821. Sugar represents over ¼ of average calorie intake, resulting in empty calories and extra weight gain. This also results in a diet lacking key nutrients.
The digestion of sugar calls on the body's own store of vitamins, minerals, and enzymes. After eating refined sugar you're left depleted and tired! Your immune system is compromised for 4 hrs after eating refined sugar.
Check out this amazing chart that lists all of the names for sugar. Start reading food labels and try to account for how much sugar you intake daily. Look for my next post about healthy sugar alternatives and how to lick the habit!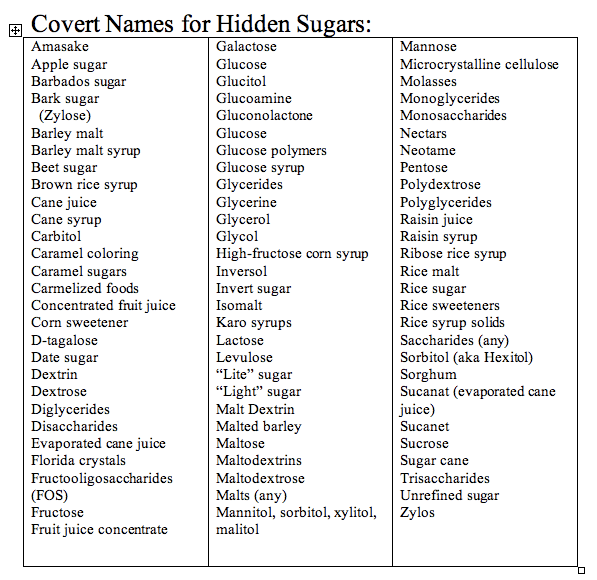 .
.