Shannon Schafer, B.S., N.E. Certified Nutritionist
Biography
Shannon Schafer, BS, NE
Shannon is a certified Nutrition Educator and graduate of Bauman College of Holistic Nutrition and Culinary Arts in Berkeley, California. She works individually with clients to develop nutrition programs appropriate to their needs. Helping clients find a natural path to well-being and radiance is a strong passion of hers. After overcoming her own health issues by embracing a whole foods diet, she can relate to many client's concerns. Shannon specializes in digestive health, calming allergies, and building the immune system. She is dedicated to helping people look and feel their best!
Watch episodes of my online show Dishin Nutrition for whole food recipes and healthy tips.
phone (415)814-2979
dietmakeover@gmail.com
San Francisco, CA 94110
Available by appointment only
Protect Your Liver!!
posted by shannonsms on Oct 27th, 2008 at 11:11 am

Protect Your Liver

Our modern lifestyle is full of toxic stressor that can overburden your liver, creating a sluggish, and congested detoxification process. This can led to a variety of health problems from as minor as fatigue to possibly even cancer. A toxin is any substance that creates irritating or harmful effects in the body. If toxins are not properly eliminated from the body, they are stored in fat tissue and organs. Try to reduce your intake of the below toxins to ensure a healthy liver!
Toxin
Pesticides/Herbicides: Found in commercially grown food.

Food Additives: Artificial flavors, artificial colors, preservatives.

Altered Fats: Hydrogenated Oils, Trans-fats

Synthetic Hormones: Bovine growth hormones (rBST or rBGH) given to cow to increase milk production.

Aluminum: Found in anti-perspirants.

Chlorine: Tap water, cleaning products, bleach.

Mercury: Amalgam fillings, contaminated fish, fabric softeners, some vaccines, cosmetics, fungacides, latex paint, tattoos, etc.

Plastic: Harmful chemicals are released into your food or drink, especially when the plastic container is heated. Called "plastic leaching."

Household toxins: Cleaning products, cosmetics, solvents.
Solutions:
Opt for organic when possible!

Read food labels. Look for ingredients that you do not recognize. Buy the book What's in Your Food? By Bill Statham. You can look up any food additive.
Avoid processed foods.

Buy only organic milk and dairy. Certified organic products will not have rBGH.


Chose deodorants instead of anti-perspirants and read ingredient labels for aluminum chlorhydrate. All natural are best.

Filter all drinking and cooking water with an activated carbon filter. Shower filters are also recommended.

Avoid Amalgam fillings. Composite fillings recommended.
Chose smaller fish for less contamination of mercury and download the "Seafood Watch" pocket guide of fish to avoid at www.mbayaq.org.

Use glass storage containers and avoid plastic. Ex: Pyrex

Use natural cleaning alternatives: baking soda, borax, lemons, vinegar, hydrogen peroxide, cornmeal, salt, vegetable-based soaps, citrus-based cleaners.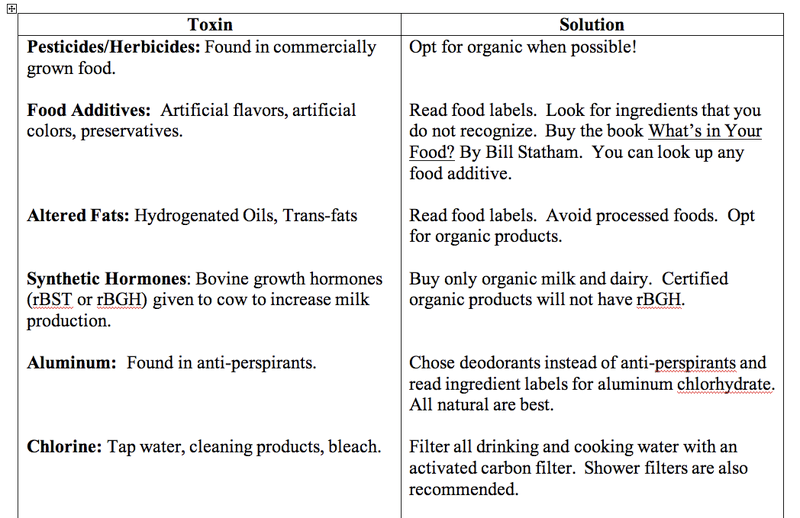 .
.