St. Sava Serbian Orthodox Church
Serbian Orthodox Church, Merrillville, IN, was established in 1914 in Gary, IN. Divine Liturgy Sundays 10am, Fr. Marko Matic officiating. Liturgical responses by Karageorge Choir. Sunday School starts after Holy Communion (around 11:15) until 12:15. Serbian School will be incorporated into Sunday School. Vespers served Tuesdays and Saturdays at 6:00 p.m. Join us, everyone welcome! Folklore dance group and choir always accepting new members. Attend Sunday Luncheons after Liturgy, hosted by families or organizations, serving delicious homemade food and desserts.
South Wing SOCIAL CENTER NOW AVAILABLE for hosting social events, newly renovated and tastefully decorated. Showers, graduation parties, business meetings, Skup Svatova, wedding receptions, baptisms, birthdays, and retirements can all be accommodated. For more info, call (219)736-9191.

phone (219)736-9191
9191 Mississippi St.
Merrillville, IN 46410
Monday-Friday: 9:00 am - 3:00 pm
Saturday: closed
Sunday: 9:30 am - 12:30 pm
posted by dorothyp on Jan 17th, 2012 at 9:52 pm

Mim Bizic posted this lovely sketch on Facebook during Christmas. The drawing was done by Sonja Kalember over 40 years ago, and is featured in our own St. Sava's Serbian Sisters cook book. Best of all, the carolers are Fr. John and Protinica Mirijana's daughters Vera, Nada, and Dara Todorovich. Visit babamim.com, where Mim Bizic shares a wealth of information about our Serbian history and culture.
.
posted by dorothyp on Oct 6th, 2010 at 10:18 am

We're sorry to announce that our 300 page Cook Book filled with recipes for traditional Serbian foods is SOLD OUT. We're looking into finding a way that you can either download the entire book or just individual recipes. You'll find an announcement here if it can be arranged. Our cook book was mailed to Europe, Canada, Australia, and throughout the US. Thanks to everyone for their orders.
Serbian Sisters Circle of St. Sava Church in Merrillville, Indiana
.
posted by dorothyp on Mar 17th, 2010 at 11:39 pm

Our Serbian Sisters Circle members have been busy preparing for this upcoming Easter Holiday. Purchase Apple Strudels, Cheese Strudels, or Nut Rolls for $10, and Palachinke for $2. Pick up your pre-orders or just stop by this Saturday, March 20th,  from 9 am to 2:30 pm in the south wing, Strudels are frozen, ready-to-bake, and nut rolls and palachinke are baked ready to eat.
We have a limited number of cook books for $15, gift wrapped. Pick one up Saturday. Only 25 left.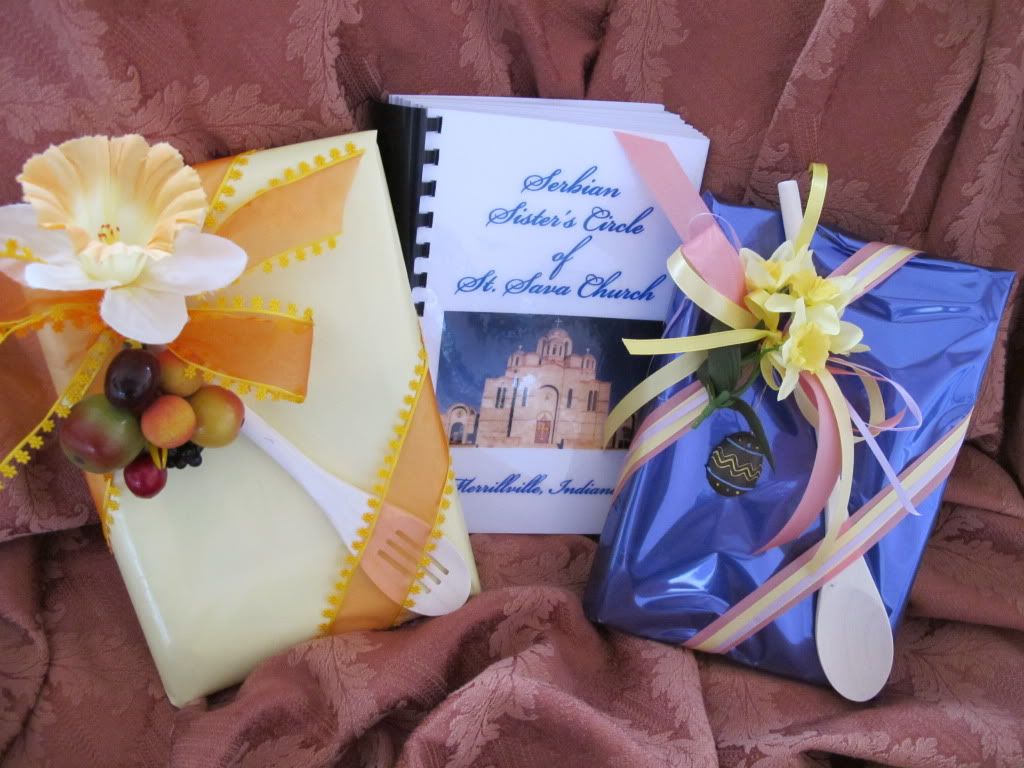 blog tags:
Easter
,
bake sale
,
St. Sava
,
church
,
Merrillville
,
strudels
,
nutrolls
,
Saturday
,
March 20
,
palachinke
,
cook book
,
(219) 736-9191
,
Serbian
,
sisters circle
.
posted by dorothyp on Feb 28th, 2010 at 3:51 pm

The favorite recipes of your Babas and Mamas have been preserved in this 300 page collection of Serbian and International recipes. They're almost all sold out, so be sure to order soon. Stop by the church office to pick one up, or order with your credit card in the  "Goods & Services" section on your right. You can also call Dorothy at (219) 613-6133 to order one if you don't use PayPal. Price is $15 plus $5 Priority shipping & handling, and includes free gift wrap.
For Canadian and International orders, shipping & handling is $14, so contact Dorothy at (219) 613-6133 to order.
* Includes Lenten and Slava recipes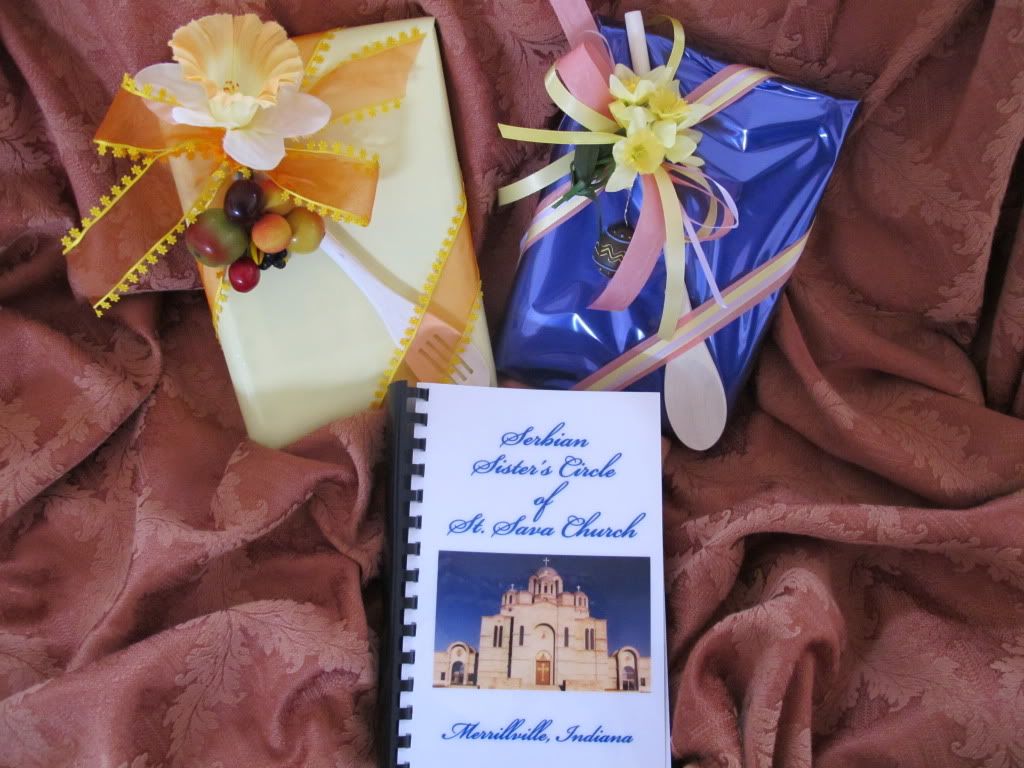 .
posted by dorothyp on Dec 17th, 2009 at 9:57 am

There's still just enough time left to order one of our Serbian Sisters Cook Books, gift wrapped for the holidays and sent via Priority Mail. Use our Goods & Services tool to your right and order with your credit card. If that's not possible, Please email Dorothy at: dorothyshops@gmail.com to order and make payment arrangements, or stop by the church office from 9:30 a.m. to 2 p.m. to see Snezana and pick up a copy for only $15. Deadline to order for December 25th Christmas is midnight, December 20. Cook Book is priced at only $15 plus $5 shipping.
If you would like a gift card and message enclosed, use the email address for instructions for any mailed item.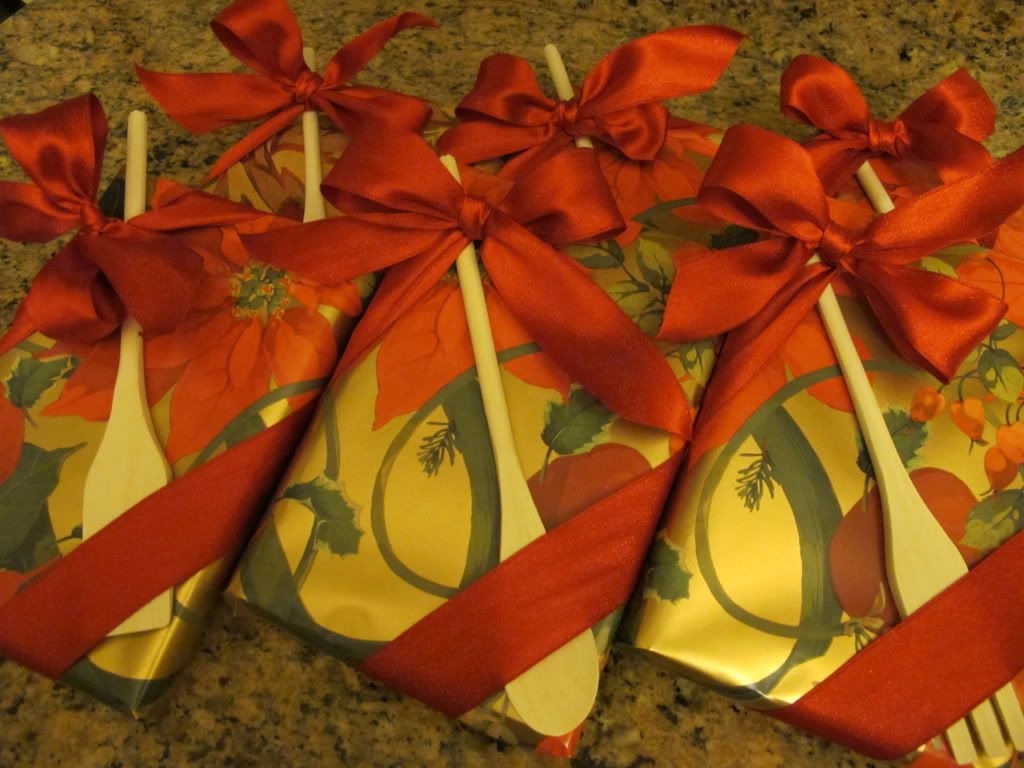 .
posted by dorothyp on Nov 19th, 2009 at 10:54 am

Pre - order your nut rolls and strudels for this Thanksgiving Holiday. Delicious Apple, Cherry, Sweet Cheese, or Salty Cheese Strudels are Take-and-Bake, Frozen for your convenience. Nut rolls are pre-baked. All items are only $10 and are made by our Kolo Sisters. Call your order in to (219) 736-9191 or Fax our request to (219) 736-7836. You can even email your order to bgrimsgard@yahoo.com.
Cook Books, pre-wrapped for the Holidays, will also be available for purchase for only $15. Pick one up for yourself and for a great Holiday gift.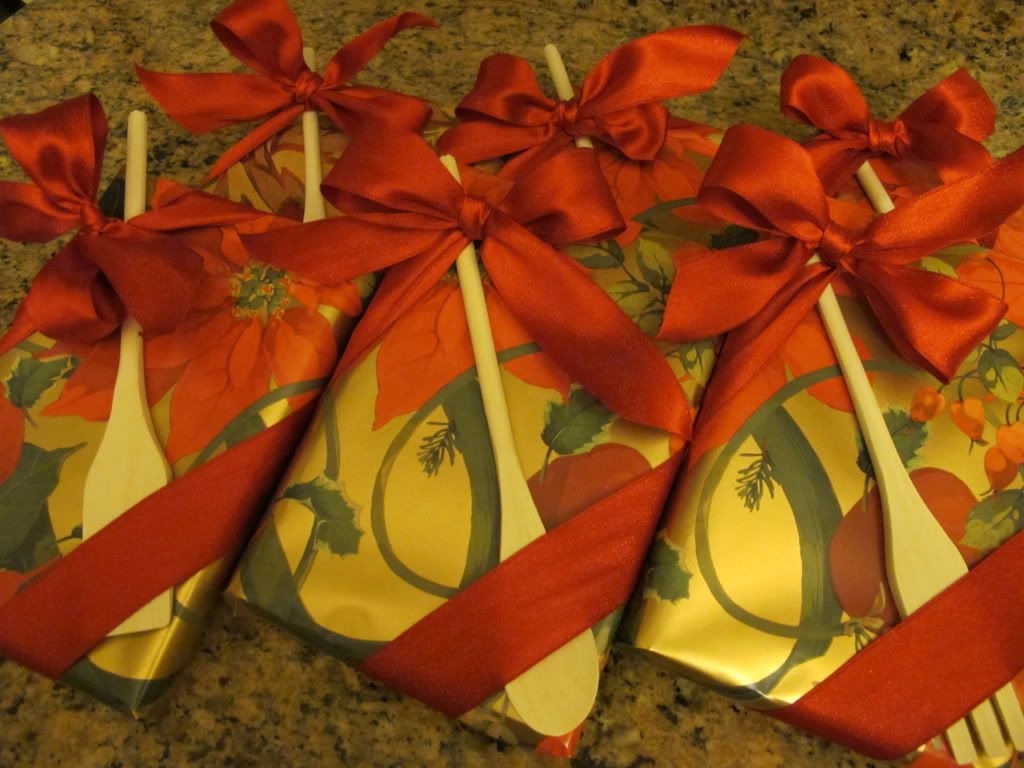 blog tags:
St. Sava
,
Church
,
Serbian
,
Sisters
,
circle
,
kolo
,
holiday
,
bake sale
,
Merrillville
,
strudels
,
nut rolls
,
cook book
,
Saturday
,
November 21
,
photo
,
order
.
posted by dorothyp on Sep 2nd, 2009 at 12:20 am

Yes, you too can be the Palachinka Princess of your household. The complete recipe is included among all the traditional favorite Serbian recipes. Classic recipes for complete meals and desserts are listed in the 324 page spiral - bound book, including Lenten dishes. It's only $15 (plus $5 shipping & handling). Free gift wrap makes it an easy gift choice. Pick one up at the church office daily from 9 a.m. to 2 p.m., or send a check to the church office with shipping info. ORDER IT ONLINE with PayPal in the Goods & Services section to your right.
.
posted by dorothyp on May 1st, 2009 at 1:10 am

These recipes are from our Serbian Sisters Circle Cook Book, available for purchase in Goods & Services or at the Church entrance display.
SLAVSKI KOLAC (Slava Bread)
4 1/2 Cups flour
1 Teaspoon salt
2 Pkg. dry yeast
1 1/2 Cups lukewarm water
1/2 Lb. butter
3 Large or 4 small eggs
Peel and juice of 1 lemon
4 Tablespoons sugar
Dissolve yeast in 1/2 cup lukewarm water, 1 teaspoon sugar and 3 teaspoons flour; let it rise. Mix all ingredients together as you would for a bread. Let it rise until it doubles in size. Knead once again. Save some of your dough for top decorations. Put bread in pan, remembering a smaller one will make a higher bread. Decorations are usually a cross, 4 C's and a braid around the edge. Pan used should be greased and floured. Bake at 350 degrees for 1 hour.
KOLJIVO
(Recipe by Milica Milojevich)
1 Lb. ground walnuts
1 Lb. sugar or powdered sugar
1 Lb. wheat
1 Teaspoon vanilla, or rum, or almond extract
1 Teaspoon cinnamon
Clean wheat and wash thoroughly. Put wheat into pan in which you are going to cook it. Then add hot water, not boiled, and let stand for 1 hour. Wash it well in lukewarm water 2 times. Put on to cook in 4 quarts of hot water; add a little salt. Cook until tender; do not overcook. When wheat is done, strain in lukewarm water 2 times. Put into strainer and wash again. Then let it stay overnight in a strainer. Put it where it will drain.
When you want to mix the wheat, put in pan or bowl where you could mix the best. Mix it thoroughly, put in wheat, nuts, sugar, flavor you want, and cinnamon. Sugar may be added if desired. When all mixed, put in glass bowl; shape it up. Put ground walnuts on top of wheat; leave some nuts on a side from top, make a cross in the center with cubed sugar, decorate around the cross with raisins, and around the side of the bowl.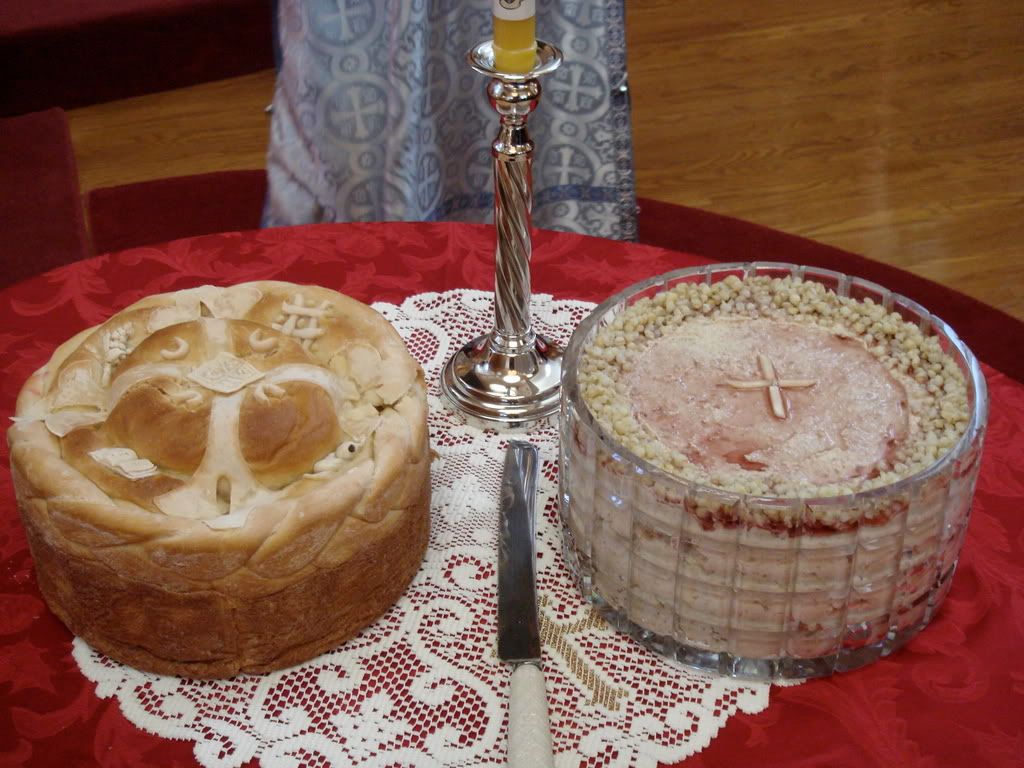 .
posted by dorothyp on Dec 15th, 2008 at 11:17 pm

This 300 page cook book makes a wonderful holiday gift. Traditional Serbian food recipes including Lenten dishes are included in this collection of International favorites. Every book is gift-wrapped and can be ordered in Goods & Services with PayPal. Cook Books are also available in the Church office or in the Cultural Room (North Wing). Price: $15 plus $5 S&H. Order today for delivery before Christmas.
.
posted by dorothyp on Sep 11th, 2008 at 8:41 am

BEEF PAPRIKASH
Bessie M. Necco (Marianov)
2-3 teaspoons sweet paprika
Cut beef into 2-inch cubes. Heat oil in heavy saucepan or Dutch oven and brown meat in it. Stir in onions and continue to brown. Sprinkle with salt, paprika, and pepper. Cover and cook over low heat for 1/2 hour. Add 3 to 4 cups of boiling water; cook 1 hour longer or until meat is tender. Serve with boiled noodles or you might like to add 2 or 3 potatoes, cut up, when you add the water. Rice also is very good with this recipe. Cut-up chicken, lamb breast, veal, or pork can be substituted for the beef. Serves 4 to 5.
BAKLAVA
Carrie Ziza
Grind nuts until fine. Add sugar and cinnamon; mix well. Butter a 11 X 15 baking pan and line with 5 sheets of strudel leaves, buttering each sheet evenly. Spread some of the nut mixture over entire surface. Add 2 buttered pastry sheets and spread evenly with nut mixture. Continue until all nut mixture is used, saving 5 sheets of strudel leaves for top layer. Be sure to carefully butter each sheet of pastry. With a sharp knife, cut Baklava into diamond-shaped pieces. Bake in a 325 degree oven for 30 minutes, on middle shelf. Move to top shelf and bake for an additional 30 minutes. Remove from oven and pour the hot syrup over the hot Baklava. Makes 30-36 servings.
Syrup: Combine 3 cups sugar and 2 1/2 cups water in saucepan, bring to boil and simmer for 15 minutes.
These recipes are from our Serbian Sisters Cook Book, available for purchase in Goods& Services for only $15.
.
posted by dorothyp on May 1st, 2008 at 11:16 pm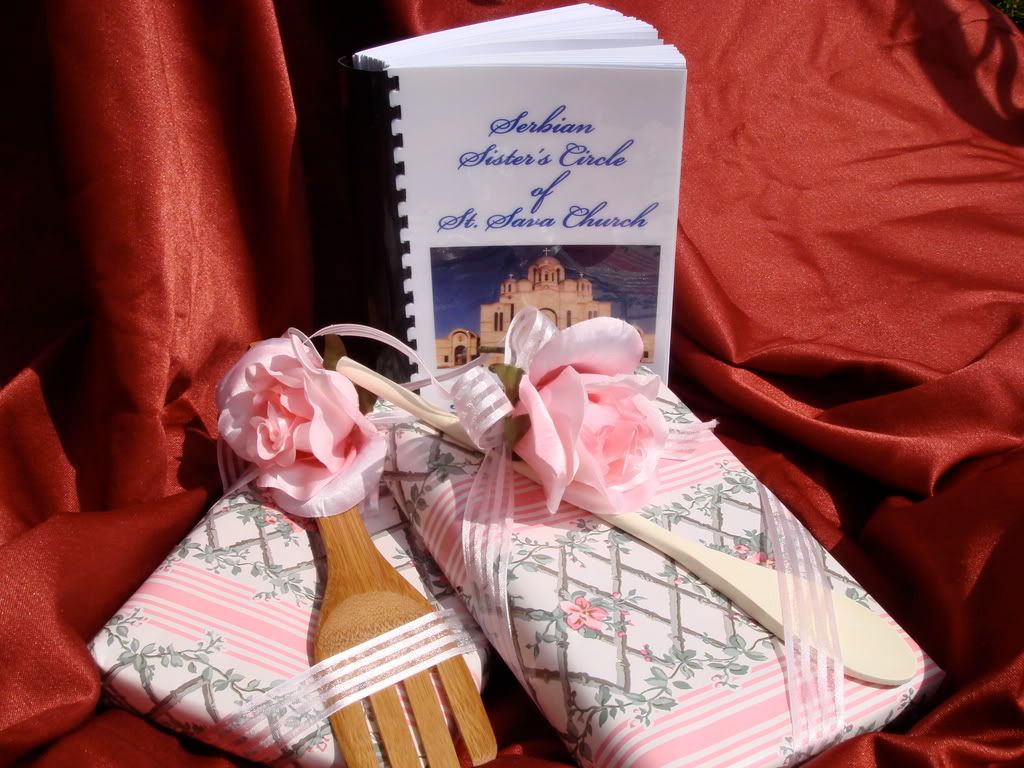 There's still time to order this wonderful Cook Book offered by our Serbian Sisters, filled with classic recipes for traditional meals, salads, and desserts. Many tasty Lenten recipes are also included. This 300 page spiral bound book covers everything from appetizers, punch, and palachinke, to breads, jello's, and hearty stews. It will remind you of the delicious meals that Baba used to make just for you!
Many of the Kolo Sisters who submitted the recipes published have long since been deceased, but we have still published their names on our monthly listings. It's a small way of honoring them and stimulating warm, loving thoughts of the memories they left behind.
Order the Cook Book for only$15 plus $5 Shipping & Handling in Goods & Services. We'll send it out by Priority Mail and can send it directly to you or Mom. We'll gift-wrap it with a Mother's Day theme absolutely FREE. Use your credit card to purchase it online with PayPal.
.
Displaying Blog Posts 1 - 11 of 11