St. Sava Serbian Orthodox Church
Serbian Orthodox Church, Merrillville, IN, was established in 1914 in Gary, IN. Divine Liturgy Sundays 10am, Fr. Marko Matic officiating. Liturgical responses by Karageorge Choir. Sunday School starts after Holy Communion (around 11:15) until 12:15. Serbian School will be incorporated into Sunday School. Vespers served Tuesdays and Saturdays at 6:00 p.m. Join us, everyone welcome! Folklore dance group and choir always accepting new members. Attend Sunday Luncheons after Liturgy, hosted by families or organizations, serving delicious homemade food and desserts.
South Wing SOCIAL CENTER NOW AVAILABLE for hosting social events, newly renovated and tastefully decorated. Showers, graduation parties, business meetings, Skup Svatova, wedding receptions, baptisms, birthdays, and retirements can all be accommodated. For more info, call (219)736-9191.

phone (219)736-9191
9191 Mississippi St.
Merrillville, IN 46410
Monday-Friday: 9:00 am - 3:00 pm
Saturday: closed
Sunday: 9:30 am - 12:30 pm
posted by dorothyp on May 24th, 2012 at 9:59 pm

Orthodox Christian churches, including the Serbian Orthodox church, celebrate the "miracle of Easter" or Pascha on the Easter Sunday date in the Julian calendar. Many people see Easter as the most important event in the church calendar. Orthodox Easter preparations begin with 40 days of strict fasting prior to Easter Day. Faithful Orthodox Christians attend liturgies during the Holy Week that leads up to Easter Sunday. Below are three videos that show excerpts of the Easter Divine Liturgy at St. Sava Church.
blog tags:
videos
,
easter
,
2012
,
serbian
,
orthodox
,
christian
,
divine liturgy
,
music
,
choir
,
karageorge
,
priest
,
pascha
,
blessing
,
eggs
,
responses
,
rev
,
marko matic
.
posted by dorothyp on May 26th, 2011 at 9:43 am

Fr. Marko Matic officiated this year's Easter Divine Liturgy Service, celebrating The Resurrection of Our Lord Jesus Christ. You can watch small clips from this service and children receiving eggs and Fr. Marko's blessing below.
Hristos Voskrese! Voistinu Voskrese!
Christ Is Risen! Indeed He Is Risen!
.
posted by dorothyp on May 21st, 2011 at 11:53 pm

Thank you to all the families who colored and donated eggs for sharing on Easter. Special thanks also to our folklore dancers for passing out the eggs after Divine Liturgy.
.
posted by dorothyp on Apr 20th, 2009 at 11:50 am

All the children were dressed in their Easter finery as they received brightly colored eggs from "Beba" Milena Rudman, Dennis, and Lynn Svilar. Thank you to everyone who brought dozens of colored eggs to pass out. Enjoy the photos and be sure to click on the small thumbnail photos to renlarge, and once again on Photobucket for an even larger image.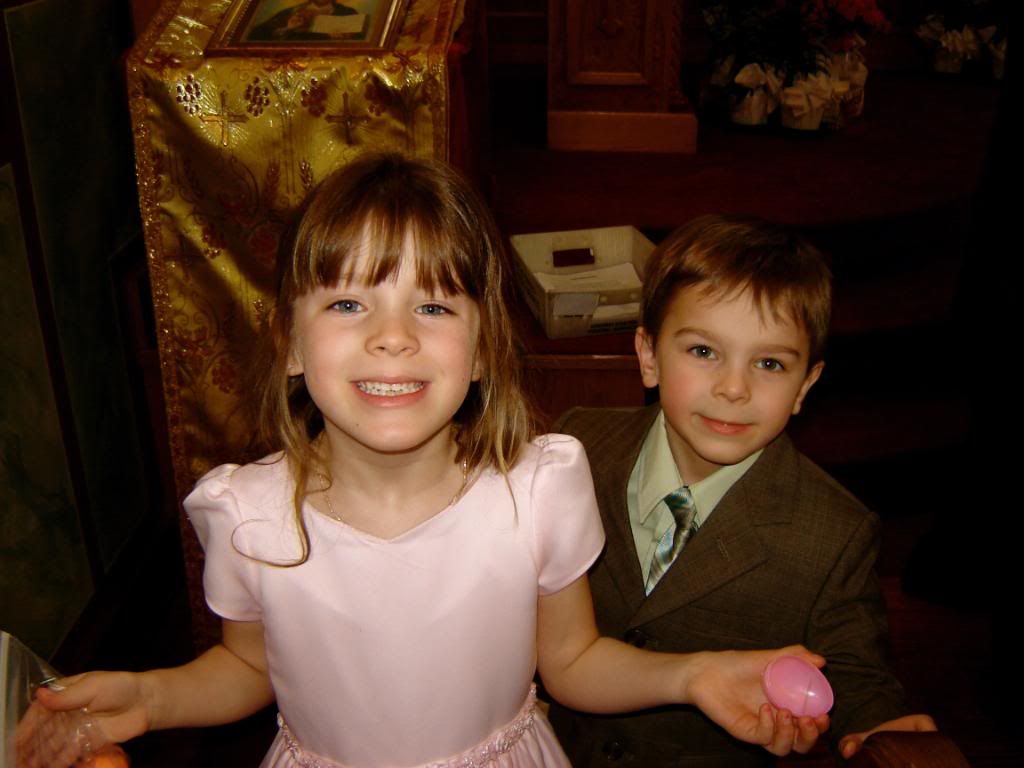 .
Displaying Blog Posts 1 - 4 of 4