St. Sava Serbian Orthodox Church
Serbian Orthodox Church, Merrillville, IN, was established in 1914 in Gary, IN. Divine Liturgy Sundays 10am, Fr. Marko Matic officiating. Liturgical responses by Karageorge Choir. Sunday School starts after Holy Communion (around 11:15) until 12:15. Serbian School will be incorporated into Sunday School. Vespers served Tuesdays and Saturdays at 6:00 p.m. Join us, everyone welcome! Folklore dance group and choir always accepting new members. Attend Sunday Luncheons after Liturgy, hosted by families or organizations, serving delicious homemade food and desserts.
South Wing SOCIAL CENTER NOW AVAILABLE for hosting social events, newly renovated and tastefully decorated. Showers, graduation parties, business meetings, Skup Svatova, wedding receptions, baptisms, birthdays, and retirements can all be accommodated. For more info, call (219)736-9191.

phone (219)736-9191
9191 Mississippi St.
Merrillville, IN 46410
Monday-Friday: 9:00 am - 3:00 pm
Saturday: closed
Sunday: 9:30 am - 12:30 pm
posted by dorothyp on May 4th, 2013 at 8:44 pm

Easter Blessings to all Orthodox Christians.
Christ is risen from the dead, trampling down death by death, and upon those in the tombs bestowing life!

May you and your Family be Blessed and have a joyous Feast. You may recognize the photos below of our St. Sava Church, 1300 Connecticut Street in Gary, with the beautifully decorated Plastanica.
.
posted by dorothyp on Nov 11th, 2009 at 12:06 pm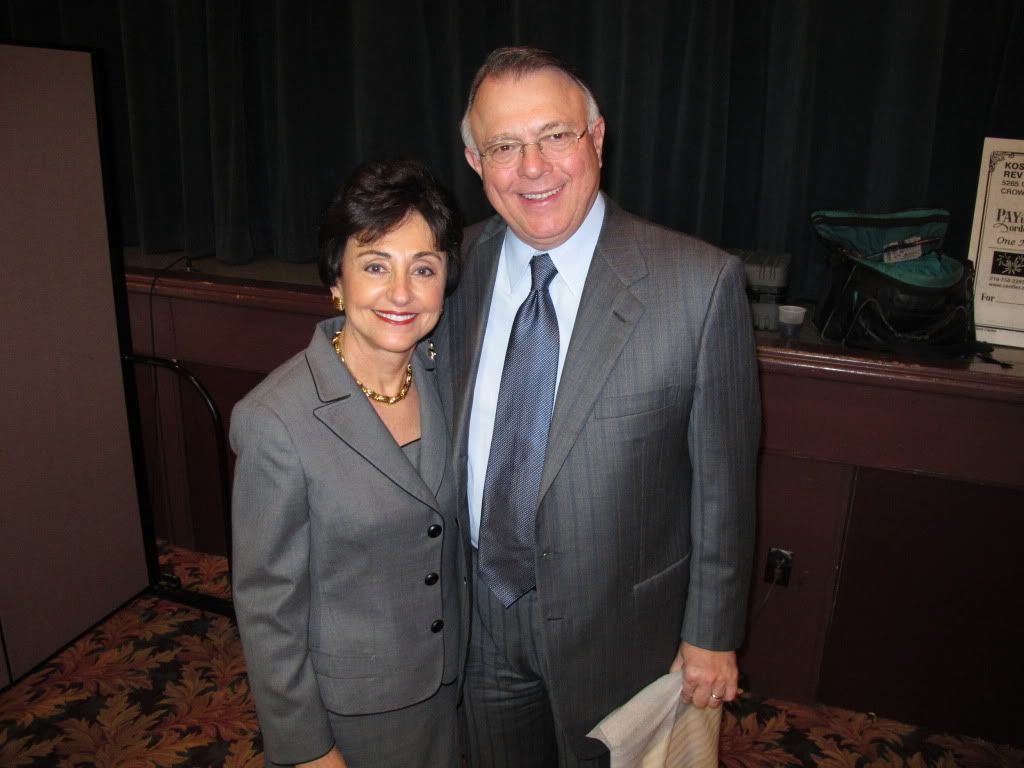 Nicholas D. Chabraja and his lovely wife Eleanor honored us with their presence at St. Sava Church's historic 95th Anniversary. At the conclusion of his heartwarming speech, Mr. Chabraja was presented a plaque of appreciation from church president Dennis Svilar. Mr. Chabraja acknowledged his Sunday School teacher from many years ago, Miss Daisy Wuletich, also in attendance. "Thank You, Ziveli, and Mnogaja Ljeta!" to the Chabraja's for their support through the years and for making this Anniversary a very special memory.
blog tags:
95th
,
anniversary
,
st. sava
,
church
,
merrillville
,
video
,
photos
,
youtube
,
gary
,
nicholas d. chabraja
,
banquet
,
program
,
november 8
.
posted by dorothyp on Nov 9th, 2009 at 8:59 pm

Rev. Marko Matic served Divine Liturgy for this historic celebration, assisted by John Derado. S.S.S. Karageorge sang responses as they do every Sunday. Check back for more photos and videos from this wonderful event.
.
posted by dorothyp on Nov 9th, 2009 at 12:13 pm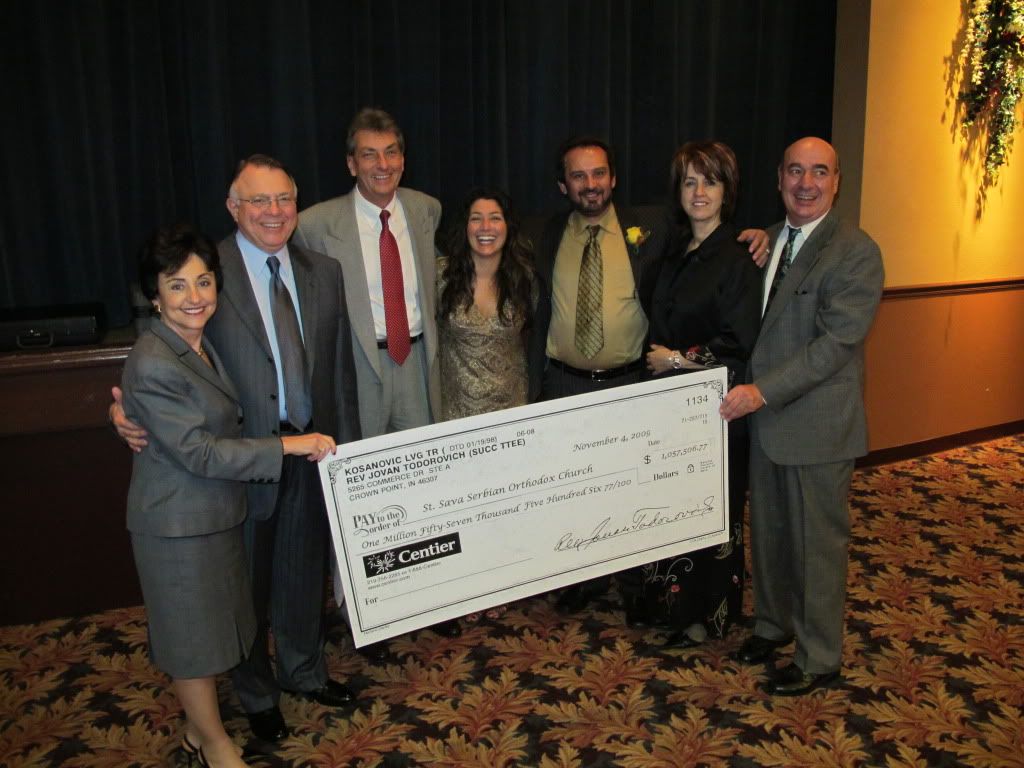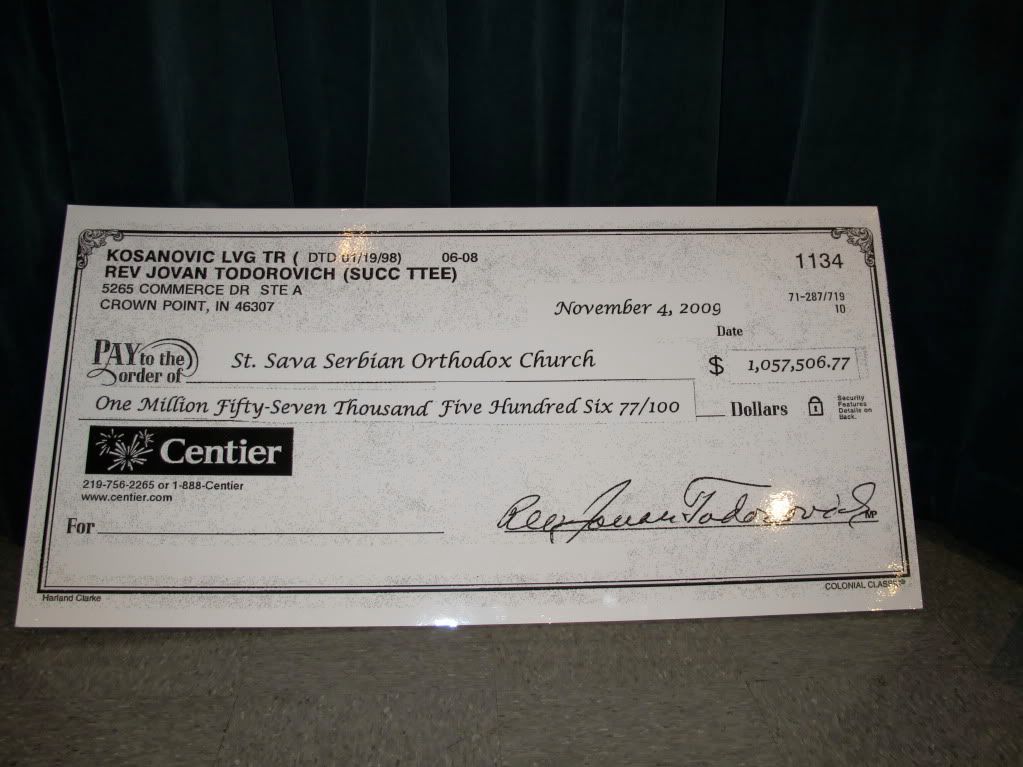 The following new article appears in the NWI TIMES Newspaper Monday, November 9, 2009 as reported by Lu Ann Franklin:
MERRILLVILLE | A church built and supported by families for the past 95 years received a gift from two late longtime members Sunday as Mile and Ella Kosanovic bequeathed a trust fund of more than $1 million to St. Sava Serbian Orthodox Church.
The Gary couple's bequest of $1,057,576.77 asks the congregation to match $500,000 in donations, said Dennis Svilar, president of St. Sava's congregation. The check was presented to the Rev. Marko Matic, St. Sava's spiritual leader, during a lunch celebrating the church's heritage at St. Elijah Serbian-American Hall.
"We are entrusted with the responsibility of making sure St. Sava goes forward," said Svilar, of Park Ridge, Ill.
Keynote speaker Nicholas Chabraja Jr., a third-generation son of the church, echoed those sentiments as he addressed hundreds in attendance.
Chabraja, the recently retired chairman and CEO of General Dynamics Corp., a Virginia-based defense industry conglomerate, noted, "The Serbian Orthodox Church always provides a source of pride and keeps the culture (of its people)."
He pointed out that those who immigrated to Northwest Indiana in the late 19th and early 20th centuries to work in the steel industry faced discrimination, dangerous working conditions and the "rough and tumble town" that was Gary.
But, this wave of Serbian immigrants "endured, as Serbs have always done" in large part because of "their belief in their church and their way of life," said Chabraja, 65.
Chabraja's grandparents were among the first members of St. Sava, at its original location at 20th and Connecticut streets in Gary. His parents raised him and his two brothers in the church. His father, Nicholas Chabraja Sr., was on the committee that bought the 140 acres on Mississippi Street in Merrillville after a fire in February 1978 destroyed the original church. The current church was built in 1991, and relics that survived the fire were blessed and installed there.
"I learned the richness of the Serbian Orthodox liturgy as an altar attendant," Chabraja said. "My family history is inexorably intertwined with this church, but this story is not unusual for Serbians."
The descendants of those early Serbian immigrants to Northwest Indiana have achieved successes that would have been unimaginable to their ancestors, Chabraja said. The successes and St. Sava are affirmations of the Serbian immigrants' dreams, he said.
Raised in Gary, Chabraja received his law degree from Northwestern University in 1967. He worked for the Chicago law firm of Jenner & Block from 1968 to 1993, and served as special counsel to the U.S. House of Representatives in 1986. In 1993, Chabraja was named senior vice president and general counsel for General Dynamics. In 1997, he became CEO and chairman of the board. He retired in July.
U.S. Rep. Pete Visclosky, D-Ind., also spoke briefly at the celebration, congratulating the congregation on the longevity of the church.
blog tags:
Mile
,
Ella
,
Kosanovic
,
One Million Dollars
,
gift
,
95th anniversary
,
St. Sava
,
Merrillville
,
Gary
,
Serbian
,
Nicholas Chabraja
,
Denis Svilar
,
Rev. Marko Matic
.
posted by dorothyp on Nov 2nd, 2009 at 11:08 am

About Nicholas D. Chabraja:
We are proud to have Mr. Chabraja join us as the keynote speaker for our 95th Anniversary. The eldest son of one of our most highly recognized and respected St. Sava family's, his father Nick and mother Angie served in leadership roles that helped form and build what we are today as St. Sava.
Nick Jr., received his law degree from Northwestern University. He worked for Chicago-
based law firm Jenner & Block from 1968-1993, becoming a senior partner and working
on General Dynamics legal affairs for more than 20 years. He also served as special counsel to the U.S. House of Representatives in 1986. In 1993, he was named Senior Vice-President and general counsel for General Dynamics and charted his course up the ranks from vice chairman to chairman and CEO in June 1997.
Chabraja currently serves on the boards of trustees for Ford's Theatre in Washington, DC, and Northwestern University in Evanston, Illinois. He is chairman of the council of
trustees for the Association of the United States Army, and a director of Northern Trust
Corporation. He also served on the board of trustees of DePauw University in Greencastle, Indiana.
Join us in welcoming him back to St. Sava for this day of celebration!
.
posted by dorothyp on Sep 2nd, 2009 at 12:20 am

Yes, you too can be the Palachinka Princess of your household. The complete recipe is included among all the traditional favorite Serbian recipes. Classic recipes for complete meals and desserts are listed in the 324 page spiral - bound book, including Lenten dishes. It's only $15 (plus $5 shipping & handling). Free gift wrap makes it an easy gift choice. Pick one up at the church office daily from 9 a.m. to 2 p.m., or send a check to the church office with shipping info. ORDER IT ONLINE with PayPal in the Goods & Services section to your right.
.
posted by dorothyp on Jul 1st, 2009 at 5:04 pm

Karl Malden has been a source of pride for Serbs from St. Sava Church in Gary. We all remember his humble beginnings: his father, Peter Sekulovich, sold candles on Sundays in church and held many plays on the stage at 1300 Connecticut Street. His mother, Minnie, was an active member of the Serbian Sisters Circle and lived to be over 100 years old. Karl was a member of Karageorge Choir and participated in plays at the old church.
Karl Malden never forgot his Serbian Gary roots. He was the greatest benefactor of St. Sava Church. He passed away Wednesday, July 1, 2009.
May his memory be eternal, Vecnaja Pamjat!
Last year, St. Sava Church presented a program in his honor at the Lake Shore Visitor's Center in Highland, where he was inducted to their Wall Of Legends.
blog tags:
karl malden
,
st. sava
,
church
,
member
,
wall of legends
,
video
,
milan opacich
,
passed away
,
actor
,
serbian
,
gary
,
indiana
,
mladen sekulovich
.
posted by dorothyp on Jan 31st, 2008 at 12:19 am

Watch the 50 minute clip from the 2-hour Serb Fest 2006 DVD on Google Video. The mini-museum was put together by volunteers Milan & Roz Opacich, Ted Erceg, and Paul & Xenia Jancarich. This presentation was too lengthy to post on Youtube, so we chose to host it on Google Video.

You can purchase the complete 2 hour DVD in Goods & Services, including the Church overview, sounds of Karageorge, Milan's retirement performance, and musical highlights from MLADA SRBADIJA and DRINA. The proceeds from the DVD sale will benefit our future cultural display room and library in the north wing. Now grab some popcorn and follow the link:
Museum Tour with Milan Opacich from Serb Fest 2006.
.
Displaying Blog Posts 1 - 8 of 8