St. Sava Serbian Orthodox Church
Serbian Orthodox Church, Merrillville, IN, was established in 1914 in Gary, IN. Divine Liturgy Sundays 10am, Fr. Marko Matic officiating. Liturgical responses by Karageorge Choir. Sunday School starts after Holy Communion (around 11:15) until 12:15. Serbian School will be incorporated into Sunday School. Vespers served Tuesdays and Saturdays at 6:00 p.m. Join us, everyone welcome! Folklore dance group and choir always accepting new members. Attend Sunday Luncheons after Liturgy, hosted by families or organizations, serving delicious homemade food and desserts.
South Wing SOCIAL CENTER NOW AVAILABLE for hosting social events, newly renovated and tastefully decorated. Showers, graduation parties, business meetings, Skup Svatova, wedding receptions, baptisms, birthdays, and retirements can all be accommodated. For more info, call (219)736-9191.

phone (219)736-9191
9191 Mississippi St.
Merrillville, IN 46410
Monday-Friday: 9:00 am - 3:00 pm
Saturday: closed
Sunday: 9:30 am - 12:30 pm
posted by dorothyp on Aug 21st, 2012 at 10:03 pm

With amazing energy, young guests from Northwest Indiana and Chicagoland enjoyed three nights of kolo dancing at St. Sava's Serb Fest 2012. Musical entertainment for dancing was provided by Orchestra Sumadija, Maestro, and DJ Spaz. See if you can keep up!
blog tags:
serb fest
,
2012
,
st. sava
,
merrillville
,
serbian
,
church
,
dancing
,
kolo
,
video
,
orchestra
,
sumadija
,
maestro
,
dj spaz
.
posted by dorothyp on Mar 16th, 2012 at 12:12 pm

Our sincere thanks go out to Nancy Beric for sending this wonderful performance of "March Na Drina", on a New Year's Eve 1987 celebration by the Vienna Philharmonic Orchestra. It's fantastic!
.
posted by dorothyp on Oct 18th, 2011 at 4:55 am

Upon Milan Opacich's personal invitation, three generations of the Popovich family attended a private showing of "Tamburitza Spectacular". A section of this tambura exhibit was dedicated to the legendary Popovich Brothers, including a photo album containing hand-written personal notes and letters, comedic and political drawings, photos, and newspaper articles, many of which the family had never before seen. Milan's love, respect, and close friendship with Mikey, Adam, and Teddy triggered memories of the good times shared many years ago. On display are  Adam Popovich's drawings and wrought iron sculptures, Marko's (Mikey) hand carved miniatures, posters, and a collection of record albums. Adam's vest, worn to countless performances, weddings, and joyous occasions, is proudly displayed, on loan from the family.
Milan was 19 years old when he first met the Popovich Brothers on a night out with returning WWII veterans. They visited CLUB SELO in South Chicago, owned and operated by the Popovich family. The brothers played to a full house every Friday, Saturday, and Sunday night on a corner stage. This is where Milan would court his lovely Roz, who later became his wife. Mikey, the prima player, came to Milan's house for the first time in 1974. Adam and Teddy showed up later. Every December 19, (Sveti Niloka - the Popovich family Slava) Adam, Teddy, and Eli brought bread to Milan's house and enjoyed coffee with Slivo added for dunking their bread. Milan played several occasions with the brothers and substituted for Adam when his wife was ill. When the Crljenica Brothers from California visited Milan's home, Adam hosted a party for them at his home. It was Mikey who first loaned photographs of tamburitza orchestras to Milan for preservation. All in all, this was not just a traditional friendship, but a friendship full of tradition. May their Memories Be Eternal!
If you've never known of the Popovich Brothers and their story, watch the documentary video hosted on Folk Streams The Popovich Brothers of South Chicago.
Pictured are standing, l to r, Stephanie Sims, Chris Ozment, Harry, Marco Glumac, Dan Glumac (holding Noah Bilgi). Middle row: Jim Kundrat, Natalie Peinovich, Melanie Ozment Evancevich, Elaine Glumac. Front row: Sarah Kundrat, Jackson Kundrat, Madeline Kundrat, Tina Bilgi, Sofia Bilgi.
Elaine and Melanie are the daughters of the late +Adam N. Popovich, and Natalie Peinovich is the daughter of the late +Ted N. Popovich.
Also visiting the exhibit during Serb Fest weekend were Sophie Popovich Ostoich (the only surviving sibling of the 10 Popovich's) along with her daughters, Ljubi Hayden, Martha Teshich, Ljubi's husband Bato Hayden, and Sophie's nephew Marco Trbovich and niece Vonnie Orlich, children of +Mila Popovich Trbovich.
blog tags:
popovich
,
brothers
,
orchestra
,
tamburitza
,
spectacular
,
serbian
,
exhibit
,
serb
,
fest
,
2011
,
instruments
.
posted by dorothyp on Oct 1st, 2011 at 1:03 am

Sts. Peter & Paul Church parish in South Bend held their gala 100th Anniversary celebration this past weekend. His Grace Bishop Longin gave blessings for the occasion and presided over the festivities along with several clergy members in attendance: parish priest Rev. Sasha Nedic, Rev. Lazar Kostur, Rev. Marko Matic, Rev. Aleksandar Novakovic, and Rev. Dobrivoje Milunovic. Milan Medich, church president, directed the combined choirs from Sts. Peter & Paul South Bend, St. Elijah Merrillville, and St. Sava Merrillville, who sang opening prayers and gave a fantastic choral performance accompanied by MISMO Tamburitza Orchestra. Bishop Longin addressed the guests and presented Gramatas to Rose Mandich, Bud Medich, and Eve Balaban for many years of hard work and dedication to their church. Rev. Sasha Nedic, Milan Medich, Rev. Kostur, Valerie Phillips, and Rose Mandich all spoke of their experiences of church life through the years. David Medich, event chairman and vice president, also made remarks. A 100 year commemorative video played throughout the evening, made by Robert Medich. After a delicious dinner, SUMADIJA Orchestra played for all the kolo dancers as they danced the night away. Our sincere Congratulations to Sts. Peter & Paul Church on this joyous celebration. Special thanks to Paul and Xenia Jancarich for the photos and contributing story.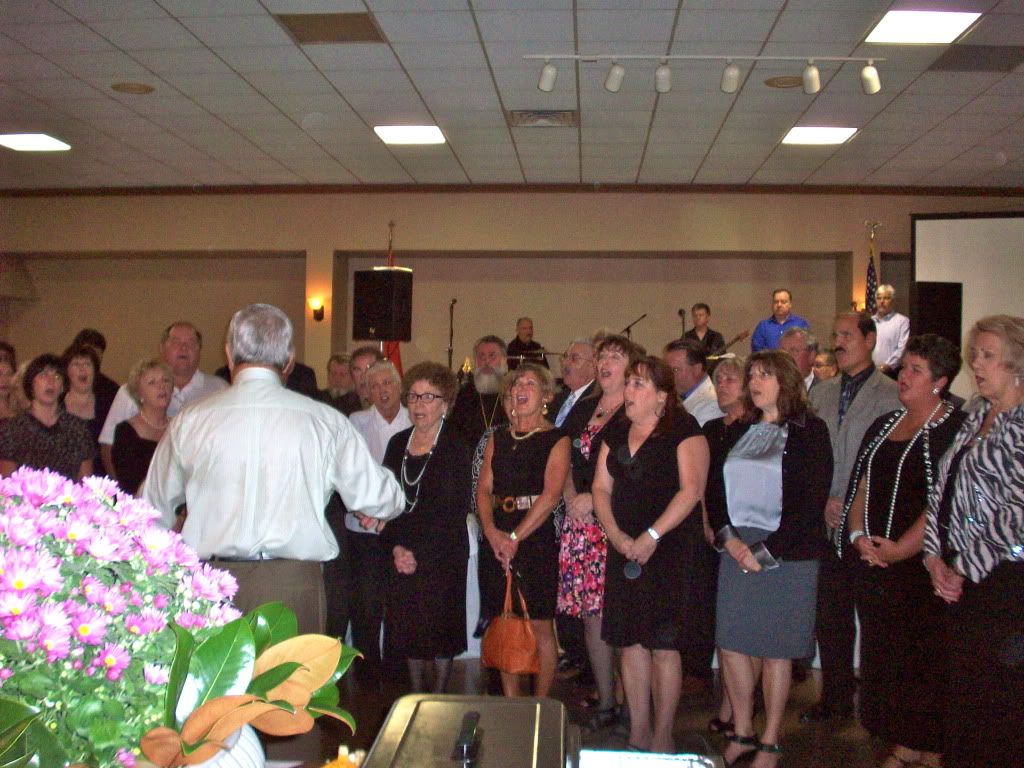 blog tags:
Sts. peter & paul
,
serbian
,
orthodox
,
church
,
south bend
,
indiana
,
100th anniversary
,
photos
,
banquet
,
celebration
,
2011
,
september 24
,
mismo
,
tamburitza
,
orchestra
,
sumadija
,
combined
,
choirs
.
posted by dorothyp on Aug 14th, 2011 at 10:43 am

Chicagoland's DUNAV Orchestra has performed at St. Sava's Serb Fest for many years, as far back as we can remember, even at the old hall on 49th Avenue. The band members include Walter Pravica on violin, Frank Jovanovich on bugarija, John Miksich Sr. on brach, John Miksich Jr. on bass, and Mike Hairlich on brach.The original DUNAV Orchestra has had many different members over the last 50 plus years. The current band members have performed as a group for more than 10 years. Read more about Walter Pravica below.
To hire DUNAV Orchestra, call Walter at (773) 481-8375 or (847) 852-6167
As you may already know, most musicians have "real jobs". Walter Pravica, pictured below with his buddy Milan Opacich, is not only an accomplished violinist, but also is a Professor of Chemistry at Wilbur Wright College in Chicago, and Chair of their Physical Science Department. Walter also plays concert violin with the Northwest Symphony for over 20 years. Best of all, he's a really great Serb with a heart of gold!
blog tags:
dunav
,
orchestra
,
serb fest
,
2011
,
st. sava
,
merrillville
,
video
,
performance
,
music
,
tamburitza
,
violin
,
walter pravica
,
tambura
,
live
,
serbian
.
posted by dorothyp on Aug 12th, 2011 at 5:48 pm

Longtime friends Jovan Djokic, Tom Andrejich, Mike Ticich, Danny Orlich, and Bob Cemovich took control of the microphones as Srpski Sinovi played for them at St. Sava's Serb Fest. The band will never be the same. Thanks to the band for being "good sports". Tom came all the way from California and Jovan and Danica from Florida, a home-coming weekend to spend with family, Kumovi, and friends.
blog tags:
Sing-along
,
Serb Fest
,
St. Sava
,
Jovan Djokic
,
Tom Andrejich
,
Mike Ticich
,
Danny Orlich
,
Bob Cemovich
,
music
,
Srpski Sinovi
,
festival
,
orchestra
,
live
.
posted by dorothyp on Aug 9th, 2011 at 11:28 pm

What a treat! Bob Bratina, Mayor of Hamilton, Ontario, Canada, honored us all with an impromptu frula (flute) performance of "Cacak" with Srpski Sinovi Orchestra. Bob and his wife Carol perform with "Balkan Strings" Orchestra in Hamilton. Tambura fans from all over the US and Canada attended Serb Fest - Florida, California, Utah, Ohio, Michigan, Pennsylvania, and all throughout the Midwest region - so make plans to visit next year's event. Oh yes, and VOTE FOR BOB!
blog tags:
bob bratina
,
mayor
,
hamilton
,
ontario
,
canada
,
srpski sinovi
,
orchestra
,
flute
,
frula
,
performance
,
serbian
,
music
,
serb fest
,
st. sava
,
merrillville
,
2011
.
posted by dorothyp on Aug 5th, 2011 at 9:05 am

We'd like to welcome Srpski Sinovi Orchestra from Pittsburgh to perform at St. Sava for the first time. Although everyone knows Marco Trbovich, Vonnie Orlich's brother, the band is new to our entertainment schedule. Here's a little info:
The five member Srpski Sinovi Orchestra is comprised of all 1st, 2nd, and 3rd generation American Serbians. Accordianist, Aleksandar "Sasha" Slavkovic, born in Cacak, Serbia, and Brock Belich, bassist and the only Pennsylvania native in the group, both studied and performed with the Duquesne Tamburitzans. Mark Doncic, originally from Toronto, Ontario, plays cello with the group and is also the director of the Tsar Lazar Male Chorus. Dan Jovanovich, originally from Joliet, IL is on the bugarija and Marco Trbovich, originally of Hammond, IN plays  brac.
The orchestra features Slavkovic's accordion virtuosity and unique three-part harmonies among the group's three elite singers. Srpski Sinovi has been performing for five years throughout the Northeastern US and has occasionally appeared in the Midwest.
blog tags:
srpski sinovi
,
pittsburgh
,
orchestra
,
serbian
,
marco trbovich
,
pennsylvania
,
serb fest
,
st. sava
,
2011
,
merrillville
,
performers
,
band
.
posted by dorothyp on Dec 4th, 2010 at 8:43 am

For many years we've enjoyed a sing - along with the guys from MISMO at our anniversary banquets. This year they also accompanied the combined choirs from St. Sava and St. Elijah in Merrillville and St. Peter & Paul from South Bend. Band members are Steve Baroevich, Mike Jaksich, Dan Orlich, and Mike Ticich, along with special guest musician Nick Sever. Enjoy the samplings in the video below.
.
Displaying Blog Posts 1 - 9 of 9