St. Sava Serbian Orthodox Church
Serbian Orthodox Church, Merrillville, IN, was established in 1914 in Gary, IN. Divine Liturgy Sundays 10am, Fr. Marko Matic officiating. Liturgical responses by Karageorge Choir. Sunday School starts after Holy Communion (around 11:15) until 12:15. Serbian School will be incorporated into Sunday School. Vespers served Tuesdays and Saturdays at 6:00 p.m. Join us, everyone welcome! Folklore dance group and choir always accepting new members. Attend Sunday Luncheons after Liturgy, hosted by families or organizations, serving delicious homemade food and desserts.
South Wing SOCIAL CENTER NOW AVAILABLE for hosting social events, newly renovated and tastefully decorated. Showers, graduation parties, business meetings, Skup Svatova, wedding receptions, baptisms, birthdays, and retirements can all be accommodated. For more info, call (219)736-9191.

phone (219)736-9191
9191 Mississippi St.
Merrillville, IN 46410
Monday-Friday: 9:00 am - 3:00 pm
Saturday: closed
Sunday: 9:30 am - 12:30 pm
posted by dorothyp on Jun 16th, 2009 at 1:48 am

Perhaps a few raindrops were welcome, because they hid the tears during a solemn, respectful tribute honoring St. Sava's WWII Veterans.  After 31 years of separation, the monument built in 1947 was standing next to St. Sava Church once again. It's even more beautiful than many remember, sitting alongside the monument donated by the late Mile and Ella Kosanovich, also dedicated to Serbs of all wars.
Several Veterans proudly attended the service and luncheon, and were "celebrities" for the day. Reporters and photographers were competing for their stories and photos. Remarks were made by Dennis Svilar, Desko Nikitovic, Portage Mayor Olga Velasquez, Lake County Police Chief Marco Kuyachich, and Korean War Veteran and Author Ted Erceg. Milan Opacich was recognized for writing many articles challenging someone to move the monument. His dream was realized on June 7, 2009. Enjoy the video below, and be sure to visit the Memorial Monument at it's new home.
blog tags:
video
,
re-dedication
,
St. Sava Church
,
Merrillville
,
WWII memorial
,
monument
,
military
,
Serbian
,
U.S. Armed Forces
,
Olga Velasquez
,
Marko Kuyachich
,
Nick Sever
,
Veterans
.
posted by dorothyp on Apr 24th, 2009 at 10:03 pm

In 1947, a large Memorial Monument was erected and dedicated to honor those young Serbian men from St. Sava Church, who bravely fought in the Second World War. Several perished and are listed among approximately 200 church members who proudly served in all branches of the U.S. Armed Forces. On our Church's Anniversary, we still pay tribute to them each year at the new Church property in Merrillville. The original Monument has remained at the old Church property at 1300 Connecticut Street since it survived the fire in the late 70's.
Recently, Nicky Joe Sever has taken on the task to dis-assemble, secure and move the Monument. It is a difficult project, but he is skilled, determined, and passionate about fulfilling the dream of many Church members. His father's name is among those listed on the original plaques that have been in storage. The process of storing, transporting, and re-building the structure will take weeks, but we all look forward to an emotional day when we can re-dedicate this beautiful tribute to a previous generation of heroes. The Monument will be placed in the area around the flag poles, and it will be visible for passing traffic to appreciate. The Serbian Historical Society would like for anyone who has a relative listed on the Monument to please provide a copy of a photograph in uniform (5 X 7) for historical preservation. Please provide details such as dates, branch, rank, etc. if possible. A complete list of servicemen will be on display on the south and north wing bulletin boards.
Special Thanks to Greg Traicoff for providing a crane, truck, and other equipment at no charge. Others pictured are Chris Traicoff, Eric Seville, Nick Sever, and Christopher Stevens, and Fred. And to Nick Sever, heartfelt Thanks and appreciation for your hard work and the respect you've shown for St. Sava's servicemen.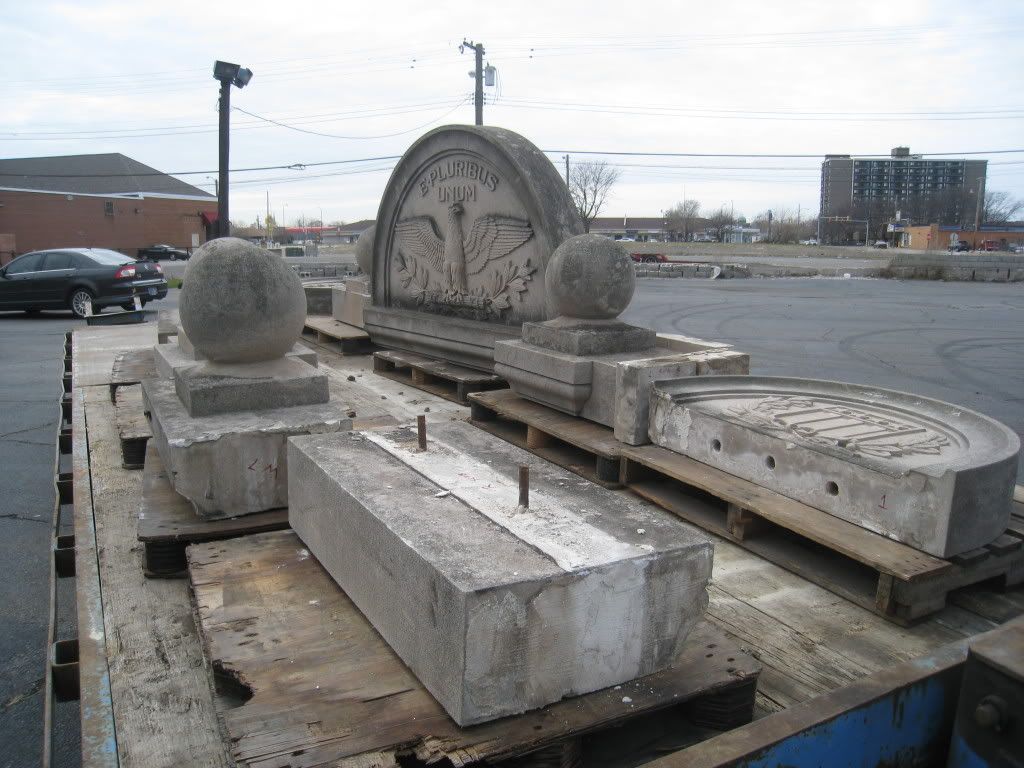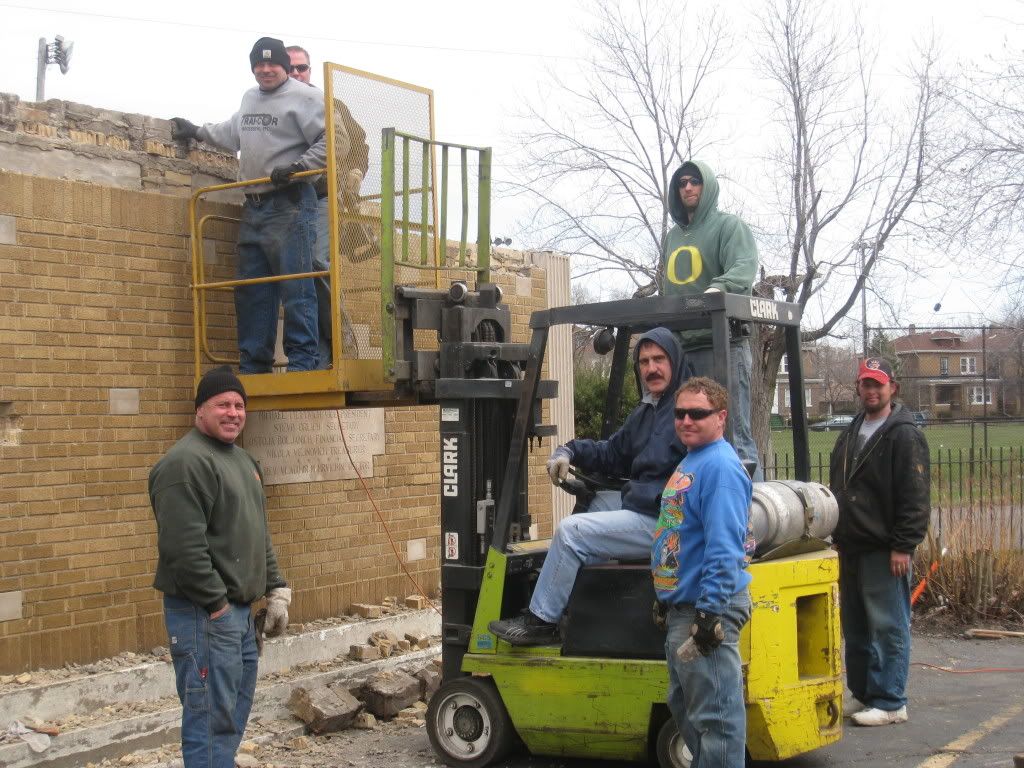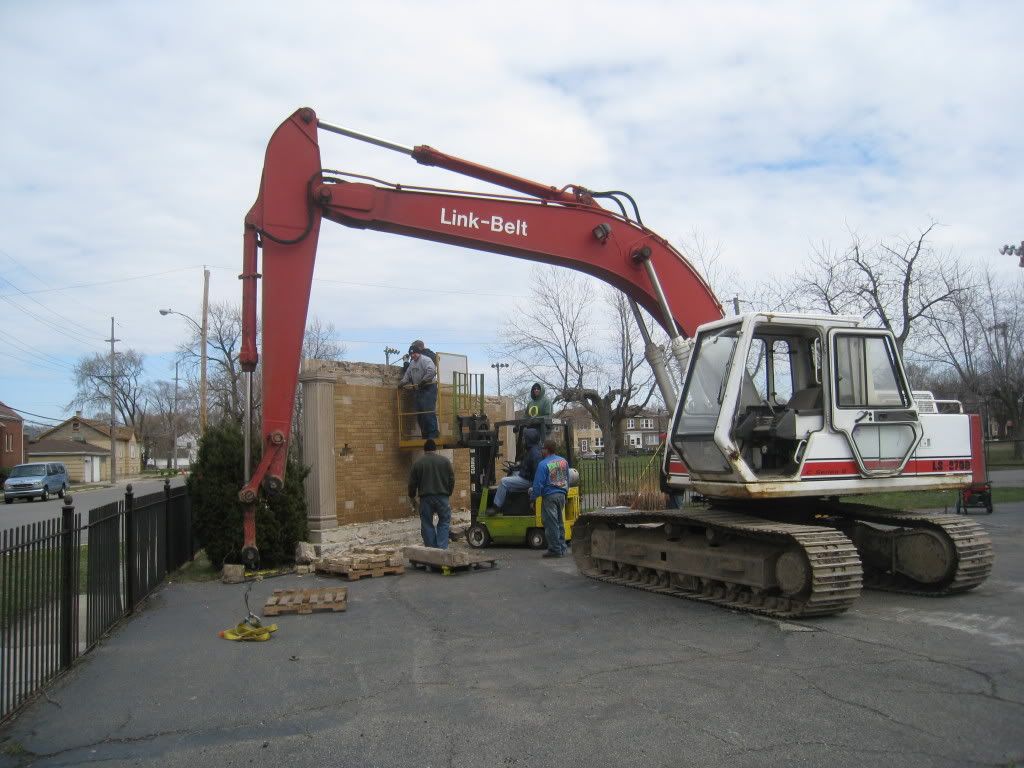 .
posted by dorothyp on Jul 15th, 2008 at 10:12 pm

Serbs who served in both World Wars in Yugoslavia and those who served in the U.S. Armed Forces were honored Sunday on Serbian Day. St. Sava's new Serbian Historical Society displayed tributes to every generation of men and women who sacrificed so much for their country. Draza Mihajlovich and his brave Chetniks were honored with a video presentation and photographic display provided by many of our members and our friends from St. Elijah. Rare books have been collected and copies were provided for viewing. The Nogulich Family was kind enough to provide a DVD documentary about the first Serbian Congressional Medal of Honor Recipient, Corporal Jake Allex Mandusich. Along with many photos and artifacts, Serbian Pride was evident on Serbian Day.
(Click photos to enlarge)
.
posted by dorothyp on Jul 9th, 2008 at 10:59 am

Be sure to attend this annual event celebrated for the first time this year in Merrillville at the church grounds on 91st & Mississippi. Divine Liturgy will start at 10 a.m., followed by the Memorial Service for Draza Mihajlovich and all who served under his leadership. There will be lamb and sausage available, BBQ on a Bun, a baked goods, and more. A special exhibit will be presented by the Serbian Historical Society honoring Gen. Draza Mihajlovich, his Chetniks, and also the Serbian Americans who bravely served in the U.S. Armed Forces. Join us for the day and bring the whole family.
The Serbian Historical Society is looking for items related to Serbians serving both U. S. Military and the Serbian Military, Chetniks, Royal Guard, POW's, refugee camps, etc. Photos of individuals, groups, or events will be copied and returned, or you can provide us with originals. Also looking for uniforms, hats, medals, orders, papers, etc. for our historical displays and presentations. Contact any member of the museum committee or email us at the contact button at the top of this page.
.
Displaying Blog Posts 1 - 4 of 4